Use the promo code MASTER2023 and get 1320 Kobans!
Gay Harem
The most popular free gay hentai game
Table of contents
Do you want to discover new sensations of online fun while exploring the completely crazy universe of hentai manga? It's time to try the online game Gay Harem, the gay version of Hentai Heroes for the connoisseurs. In this game, you'll be able to let loose and fuck a lot of hot and sexy guys! Exclusively for you, we tried it, and we really tripped, because whether you are gay or straight, this game is as crazy as erotic.
Quick presentation of the game Gay Harem
At the beginning, we leave on a classic scenario. You are in the skin in a young man lambda, but a little perverse and voyeur anyway. You don't really have an easy time finding a partner and your sex life is limited to masturbation and voyeurism. Until you meet the famous Bunny, a hot and crazy guy who invites you to discover his world: Haremverse, populated by beautiful males, each one hotter than the other and who only want to fuck. On the program of your adventures, you will multiply your conquests and you will take pleasure with penetration, fellatio, anilingus and many other even more trashy practices.
What is the goal in Gay Harem?
The goal of the Gay Harem game is very simple: to fuck everything that moves. But unfortunately, this will not always be easy and you will have to find ways to seduce all these horny guys. Moreover, you won't be alone in wanting to fuck all these hot characters. You'll be competing with other characters. Some of them are cunning, others have real apollo bodies. As the game progresses, you will be able to earn money and go to the market to buy accessories, clothes and gifts for your harem boys. The more items you collect, the more your stats increase. These stats will also increase as you gain experience for your harem boys. This will allow you to win battles in the arena and earn money. For example, a guy like Bunny in your harem earns you 100 (virtual) dollars every two minutes.
At regular intervals, the Gay Harem site offers you to play Pachinko, a Japanese game of chance to win a lot of things: legendary items or harem boys.
Every day, you will have different activities to earn money, energy and experience.
The different game modes in Gay Harem
Gay Harem has no less than 500 levels of evolution to discover in two complementary game modes.
Play in solo with the adventure mode
This single player mode is particularly fun. You will discover different worlds to unlock in which you will have to seduce and fuck guys to add them to your harem. Each world is a parody of a manga or a video game from the late 1990s: Zelda, Mario, Bleach... with some very nice winks. Each world has a big bad guy to beat and 4 new guys to add to his harem.
The PvP mode to fight other players
In this mode, you will be able to gain experience and money by fighting other players on the platform. To defeat others, you will have to use your strategy, your power of seduction and have a harem with experienced men. You also need items, money and energy. To get a powerful harem, you need to increase the level of your guys and make them gain affection for you. For this you can buy money on the game and become more powerful.
Is Gay Harem free?
Hentai Gay Harem is a game that we classify as a free to play game. This means that this game is free. To play it, you just need to be over 18 years old, register and start playing. Nevertheless, if you want to speed up the process of some elements of the game like having more money for the market, increasing the experience of the guys in your harem faster or accessing all the modes of Pachinko, it will be possible to buy money from the game with real money. Paying is not an obligation and it is possible to access all game modes for free.
How to play Gay Harem for free in English?
Playing Gay Harem, the gay Hentai game, is very simple. You just need to connect to the Internet from your computer and register on the site. To do this, you will need to certify that you are over 18 years old and fill out the registration form to create an account. From there, you will be able to start your experience and take immense pleasure with this gay erotic game. Gay Harem is a game that can be played alone, but also with friends or as a couple, as it is a very fun game.
On which platforms is Gay Harem available?
Gay Harem is an online game. All platforms are compatible (PC, Mac, Android, iOS) since it is a game that is played directly from the browser. All you have to do is turn on your computer, your smartphone or your tablet and open your usual browser (Safari, Google Chrome or Firefox). Enter the address of the game website and then log in with your login and password and start from your last save.
Is there a Gay Harem mobile application?
The advantage of this game is that you can play it online from your smartphone. The mobile application is only available on Android, so if you have an iPhone, you will just have to connect from your web browser from your iOS phone. To install the application, it's very simple. Download it and install it. The advantage of playing from a smartphone is that you can play Gay Harem discreetly. Whether you are in your room, in the toilet, in the bathroom or in a corner of the living room, no one will suspect that you are playing a gay porn game!
Gay Harem review
In our general opinion, we liked the game experience that the developer offers. But as all games have their limits, we propose you a small summary of the strong and weak points of the game.
Gay Harem's pros
The parodic universe: When you get to the adventure mode, you arrive in a universe that parodies the video games and mangas of the 90s. There are some very funny winks and this is also what makes this Hentai Gay game very friendly.
A friendly game: Even if it is a porn game that will excite you and probably make you want to masturbate to take pleasure, it is also a game that we will not hesitate to play with friends, in couple and especially that we are straight or not.
It is a free game: all the levels of this game are accessible for free if you are patient. The paid mode only helps to acquire money, experience and affection more quickly and to access all the levels of Pachinkos. Unlike some games where money is quickly a hindrance to progress in the game, this one remains very accessible.
Impressive graphics: For a 100% free RPG, the visuals are quite good. The sex scenes are particularly successful and the visual rendering is quite impressive according to some players.
A varied gameplay: The hottest sex scenes are in the adventure mode. But the game offers different activities and seems quite complete (battle, game of chance...).
Gay Harem's cons
The battles are disappointing: we regret not to see the sexual battles of our harem boys. This is quite frustrating for the players since they only see the results. The objective of a gay hentai game is to see sex and more sex. From this point of view, the Gay Hentai game still has some progress to make compared to some competitors of the same type.
Apart from the main story, the sex scenes are quite rare. This is a disappointment for the voyeurs that we are. Nevertheless, it is worth mentioning that the story contains a lot of very aesthetic scenes from a graphic point of view, which compensates this defect.
The music: clearly, it is not a great success. But for a 100% free game, we didn't expect Hans Zimmer either. So, if you want to break the monotony, you can always play some nice background music while waiting.
To conclude, Gay Harem is a rather successful game, even if it suffers from the same limitations as most free RPGs. In the meantime, it's a game as fun as it is exciting that you can play solo to have fun or with others to have a good laugh in a parodic universe of the games and mangas of our childhood. For us, this game is a good experience.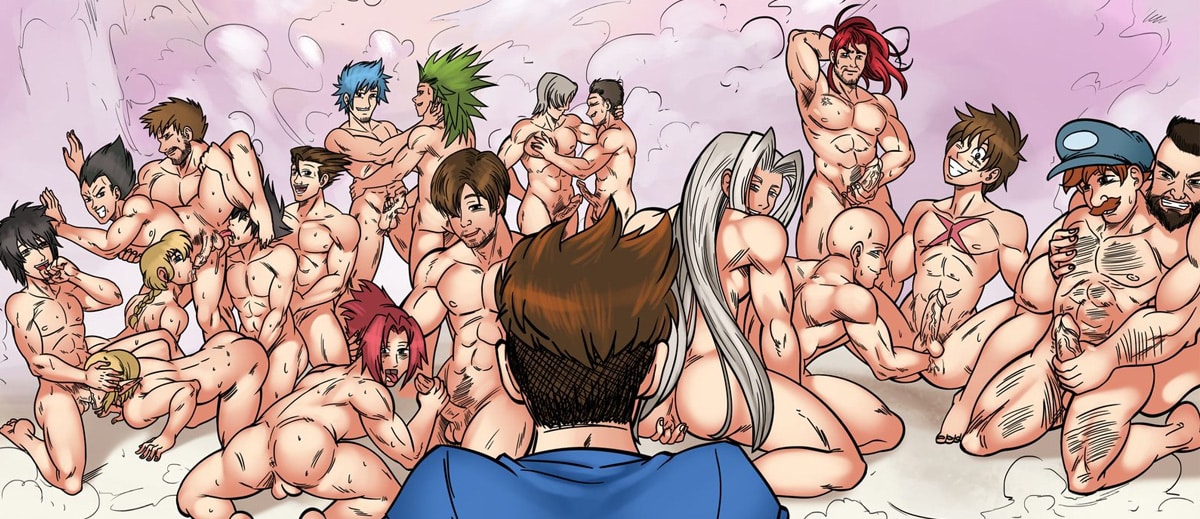 The most exciting uncensored gay porn game